SPECTATOR DAYS AT MARINE EVENTS IN 2022
Ring-side Seats at the World's Greatest Events
Many of Britain's most impressive marine events take place either at sea or along the coastline. Spectating at these events from your own luxury Sunseeker Motor Yacht has to be the ultimate experience.
Imagine sipping champagne after a fabulous meal whilst you gaze at a firework spectacular in splendid isolation - it's as though the show was put on just for you! There are many events to choose from - particularly between the Solent and West Country and we've listed the most popular here.
Luxury charter options vary according to the marine event - just give us a call for a tailored quotation on 0800 44 88 001.
COWES WEEK HOSPITALITY
30th July to 6th August 2022

There's nothing to compare with Cowes Week - the oldest and largest annual sailing regatta in the World. The event boasts an eight-day schedule combining competitive racing and great fun for the 8,000 competitors and 80,000 spectators who enjoy a fantastic line up of entertainment day and night.
Clarity provides the finest hospitality available throughout these 8 days aboard our luxury Sunseeker motor yachts. Guests will be collected from their mainland departure point and whisked straight to the centre of the action. We provide detailed race cards for each day's activity and the itinerary includes a trip in to the Event Village in Cowes.
The ultimate day is on Friday when the famous Grand Fireworks Display takes place. Conducted from a pontoon moored in the Solent, hundreds of vessels - from pleasure steamers to small powerboats - lie at anchor, whilst the shore is packed with thousands of spectators watching the fireworks light up the sea and night sky with an amazing burst of colour.
LITTLE BRITAIN CHALLENGE CUP
9th & 10th September 2022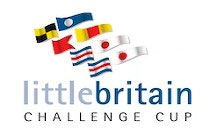 The Little Britain Challenge Cup - the construction industry regatta, is held in Cowes on the Isle of Wight - home of world yachting. It allows everyone from MDs and designers to quantity surveyors and builders to escape the world of breezeblocks and blue prints and rub shoulders with notable faces in the sailing world, for a couple of days sailing in the Solent.
The 250-yacht event is now the largest industry event in Europe and is the biggest in Britain after Cowes Week and Clarity provides indulgent hospitality for those not taking part including wives, girlfriends and those who just don't have the energy!
Costs for this event are the same as for our Main Season hospitality rates and include a complimentary bar, gourmet catering and trip ashore to the Event Village.